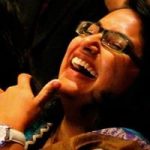 Well, what do I write about myself? As the name of the site suggests, my name is Linu and I live in Chennai with my husband and two naughty kids. I had been planning to do something on my own for a while when I accidentally saw the movie Julie and Julia. This movie, I must say made everything so simple for me…..I mean,  why not have a website that will allow me to share my recipes and thoughts with everybody out there…and needless to say Linu's Kitchen was born.
Now I must confess, I was somebody who would enter the kitchen to check out what was there for breakfast/lunch/dinner. In fact, as a newly wed, I didn't even know how to make tea!!!Fortunately for me, my husband could dish up some basic stuff. For the first 2 years post marriage, I started learning the easy stuff armed with a copy of Mrs. K.M. Mathew's "Paachakarama" (a present from my mom who was aware of my zero culinary skills). I took cooking seriously only when my daughter's snack box  started challenging me every day for variety. By the time my second daughter started playschool, I had graduated to baking!!!!
I know you must have heard umpteen number of people saying cooking is their passion, but for me cooking is when I spent quality time with my kids. We love to mess it up in the kitchen!!!